Book Offer
Chasing the Sun: A Nullarbor Tale by Timothy Diamond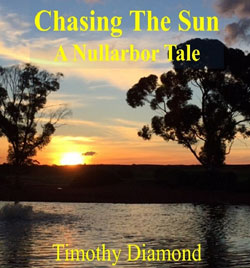 From the back cover:
Even though this book is based around one of this country's most laconic events taking place in April each year called: Chasing the Sun Golf Festival, this 18-hole par 73 course takes place on the world's longest golf course of 1,365 kilometres. Starting at Ceduna in South Australia, and ending in Kalgoorlie Western Australia, each hole includes a synthetic green tee, and somewhat rugged outback style, natural terrain fairway. This course gives visitors a quintessential Australian golfing experience, unmatched anywhere in the world. It also helps to be bit of a golfing lunatic as well. The festival was ten days of golf, road travel, laughter, disappointment, sightseeing, and overall continual fun. One of the best golfing experiences I've ever had, and a must for the fun loving!
However, saying that, this book is not completely for golf enthusiasts. In some respects, it is also a road book, of the entire trip complete with conversations with local inhabitants of the areas we were passing through, before getting from Brisbane to Ceduna, during the actual festival, and after leaving Kalgoorlie and making our way home. Some of the places we visited and the humour and tribulations associated with the trip during our month long journey.
Therefore, instead of a book about golf, or just a travel book, let's just say this could be defined as a Tale of My Many Trails.
Only $19.50 plus $5 postage.
---
How to order
Within Australia: Fill out the online order form below.
Outside Australia: Please email Alf Caputo at alfiecap@bigpond.net.au to discuss postage options and costs to your location.
---